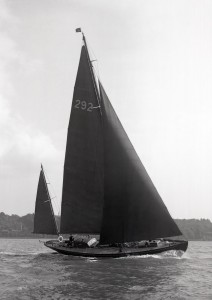 These photographs were taken by Beken of Cowes, the renowned marine photographers.  Click on any image to see a larger version.
The first shows Amokura competing in the 1947 Cowes to Cherbourg race.  The photograph was taken near Cowes on 23 May 1947.  The race, which continues to the current day, is now run in late August or early September jointly by the Royal Ocean Racing Club (RORC) in association with the Yacht Club de Cherbourg and the Royal Yacht Squadron.  Normally the race starts at 7pm on a Friday, allowing faster crews to aim for breakfast in Cherbourg on the Saturday morning and enjoy a full day there before evening celebrations!  The race is normally the last in the RORC UK summer race series.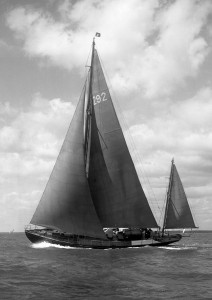 The second and third pictures show Amokura  off Cowes on 25 June 1949 and 21 July 1951, in both cases competing in the Morgan Cup which is a similar race to Cowes-Cherbourg. It now takes place annually in June.  Every other year, when the challenging Fastnet Race takes place in August, the Morgan Cup is one of the key practice races in the run-up.  The same yacht clubs organise the Morgan Cup as the Cowes-Cherbourg race, with the addition of the Royal Thames Yacht Club (RTYC) which – coincidentally – has Amokura included in its collection of wall-mounted half-model yachts.
The final picture was taken on 23 June 1969 shortly after Amokura was acquired by Richard Carr.  He took an early decision to re-rig her with shorter, aluminium masts replacing her original wooden rig and this photograph is believed to have been taken almost immediately after the rig was completed.  The photograph, taken off Cowes, shows Amokura competing in the Cowes to Deauville race which continues to the current day, now organised by the Royal Southern Yacht Club, the Royal London Yacht Club, the Junior Offshore Group (JOG), RORC, Deauville Yacht Club and Yacht Club de France.  The 2012 race took place in early June and marked its 50th anniversary.
All photographs on this page are copyright Beken of Cowes, reproduced here with permission.